Japan's first Digital Forwarder

[Shippio] Cloud Service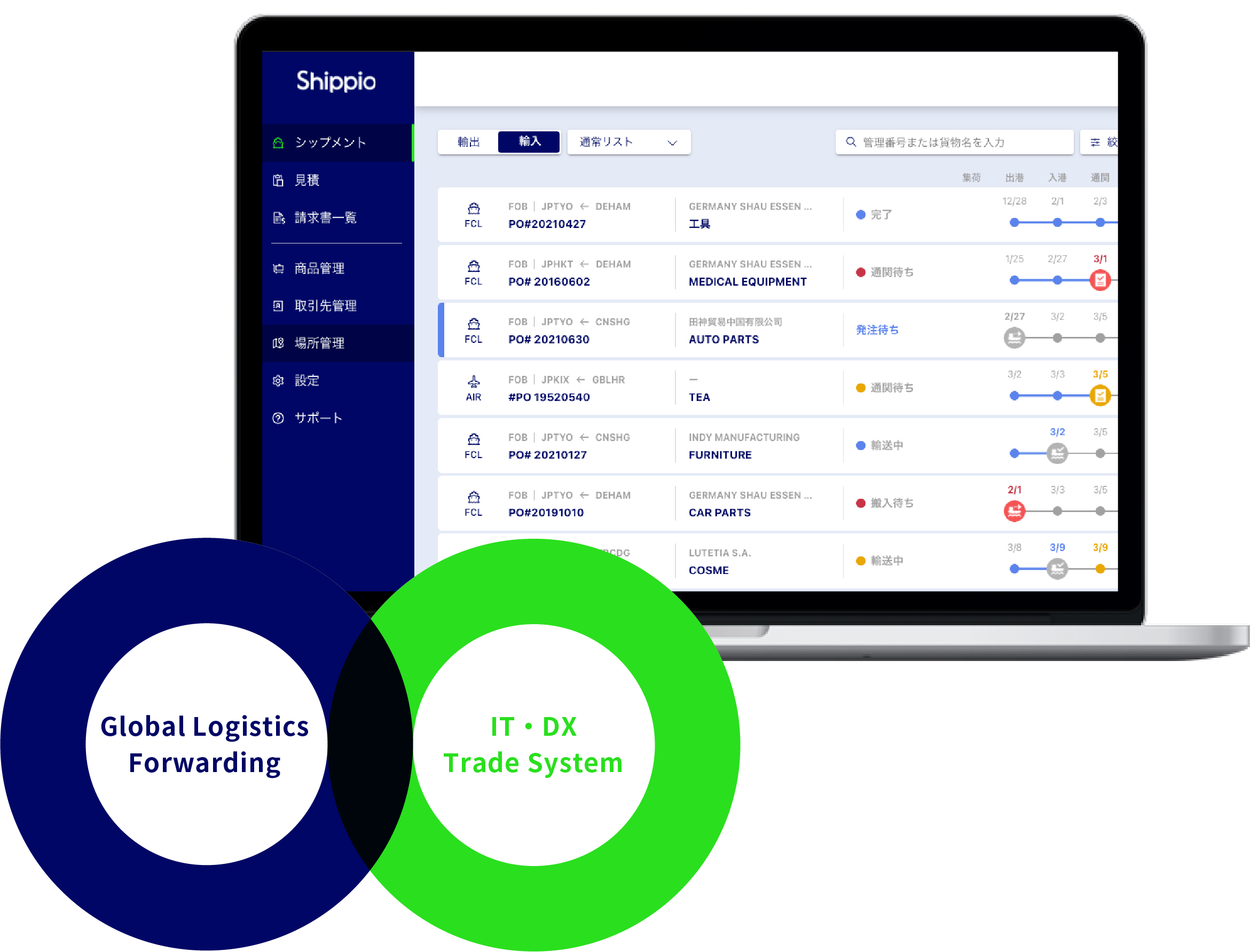 Get your trade operation more efficient by 50% with Shippio!
※1
We provide consolidated management of automated vessel schedule update, quotation, order, document management and delivery scheduling.
It's free of charge.
※2
No installation required.
*1 From the results of man-hour reductions of companies using our service.
*2 Only when forwarding order is placed.
Forwarding and transportation fee will be charged.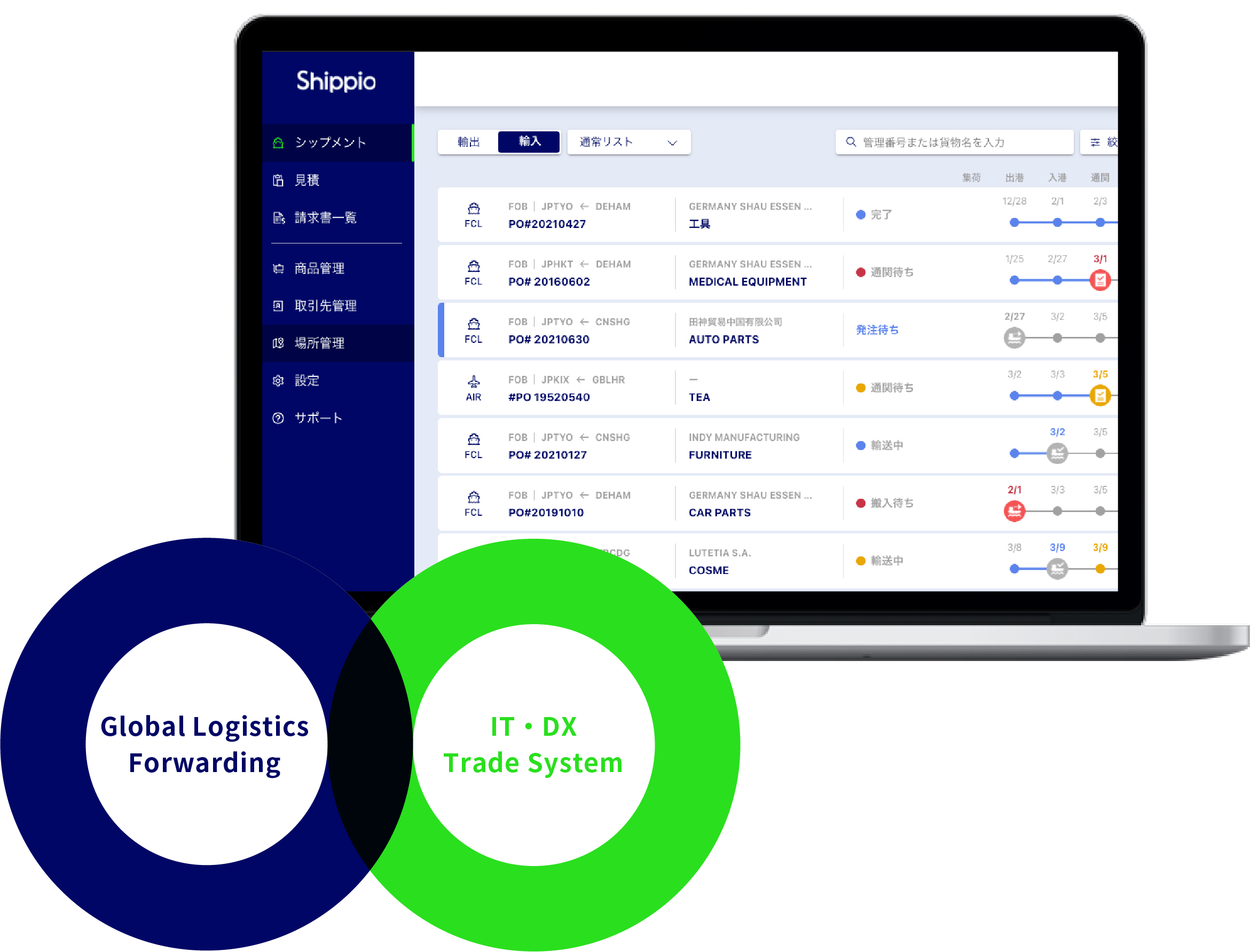 Does your business have any of these issues?
Many hours are spent on checking vessel status.
Having difficulty understanding and verifying cost appropriateness of each shipment.
Information shared through emails, phone calls, papers, PDF and Excel files are scattered and not centralized.
Trade operation is dependent upon certain staff, and could not easily be handed over.
All burden is on trade operator, the go-to-person for inquiries, both internally and externally.
Many customers have saved
a huge amount of hours by using Shippio
Trade operation man-hours reduced by approx.

50

%

Example: A customer importing 100 containers per month





Reduction of

1.5-2

manpower per month
※From the results of man-hour reductions of companies using our service 
※Varies largely depending on the shipper's shipments
We support trade operations for a wide range of customers.
Four features of Shippio
From quotations to delivery scheduling
We consolidate all information upon the cloud service

to make trade operations more visible and efficient
Shipment Management
Easy-to-understand milestone indication

Vessel status and movement are up-to-date and can be monitored visually.

Vessel Tracking on Map

Users can obtain up-to-date information on where the vessel is during the course of shipping.

Alert will be displayed when delays occur

The delay status is displayed in different colors.
(Red: Delay, Yellow: Possibility of delay)

Delivery Management

Users can easily understand the free time period and truck arrangement status for each shipment in list view.
Fee Transparency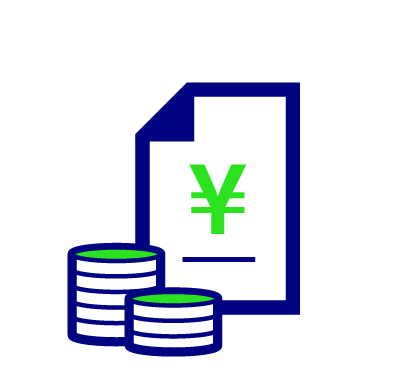 Quote request is availble on our cloud service

There is no need to request quotes by e-mail anymore. You can get the quotation instantly by selecting options in the intuitive quote simulation. Additionally, cost estimation based on quantity, size, and weight could easily be done.
If you have any questions regarding cost items, you can inquire through chat and our operators will reply shortly.

Invoices are also issued within the cloud service

Bulk invoice can be downloaded by selecting the period of time.
Trade Document and Invoice Management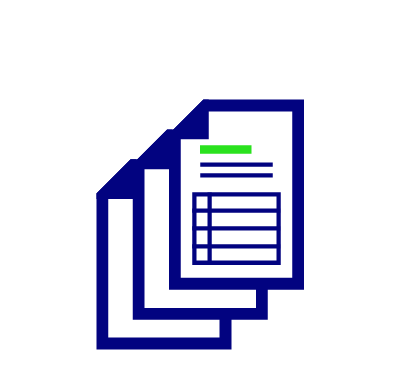 All documents and invoice data are stored and managed on the cloud service

Related documents can also be uploaded to the cloud service and centralized in one place per shipment. With our service, documents no longer need to be sent via emails, and communications with external warehouses can be done without papers.
Since it is a cloud service, all documents can be viewed anywhere, not only at the office.

Easy to search documents

The filing process is simplified and it is now easier to find documents needed for customs post inspection and internal auditing.
Smooth Communication
Visualize progress of trade operations

Communication with Shippio operator is available through chat for each shipment. You can always look back on the chat history to understand details discussed previously.

Partner communication through cloud service

Shippio can be accessed by issuing accounts not only to internal members, but also to external warehouses and overseas partners. There is no need to pass on information about vessel movement and delivery scheduling to different parties as we provide a platform for 3-way chat among shipper, warehouse, and Shippio.
Fee
Shippio's cloud service is free of charge
※Only when forwarding order is placed
※Forwarding and transportation fee will be charged
How to use
Feel free to have a talk with us first! We will contact you shortly.

We will contact you to discuss your needs. (Available online)

You can start with a small amount of shipments as a trial of our cloud service, operations, and customer support.

We provide extensive support to help making your business more efficient. We also provide briefings and onboarding support if you wish to expand the use of our service to other departments.